Preparing your boat for sale
Selling your boat can be made so much easier if you follow these simple guidelines. Preparing your boat before listing can help you achieve a faster sale it will also help ensure you get the maximum price.
"You only have one chance to make a first impression"
1. Presentation is really important. Remove all items that are not included with the sale. Buyer's do not like seeing messy or untidy boats, especially full of the seller's personal items. This perception makes buyers feel like the vessel including the engine(s) has not been cared for.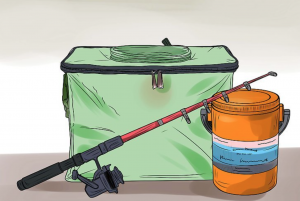 Experience suggests that 'junk and stuff' aboard makes the boat feel smaller. Clutter makes some buyers feel insecure, about how the owner cares for the boat!
2. Once the clutter is gone, the next step is a deep clean. Regardless of how well-maintained the boat is, all surfaces will benefit from some attention. Clean and polish the hull to bring out the shine.  And if your stainless hardware doesn't shine, polish that too. Replace rusty or missing screws and any other hardware or parts that have disappeared over time.
Carpet should be cleaned and dried thoroughly, or removed if beyond cleaning. Cushion covers can also be removed and washed. Make sure glass surfaces such as portlights are spotless. Mildew stains should be removed with an appropriate cleanser. Sweep up loose dirt and wipe down the entire galley area, even inside lockers. Pay particular attention to the engine compartment.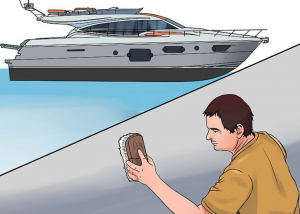 If you don't have time to do it yourself, a decent Wash & Valet will recover its cost (around £500 for a 25ft boat) several times over.
3. Service your Boat and/or Trailer before we list her for sale and reapply Antifoul, if needed. Retain your service receipts as it offers proof and validation to the buyer that she's been well-cared for.
Remember, a vessel that has recently been serviced, removes the need of the buyer to discount your vessel even further, when they make their offer. The less a buyer feels he needs to spend to get the vessel onto the water now…..simply means less money the buyer needs to discount, the more for you!
4. Your vessel and/or Trailer will need to pass a detailed pre-purchase inspection and sea-trial carried-out by a suitably qualified person or marine professional as part of the offer process.
The inspection surveys will be paid-for by the buyer, so everything that is wrong with the vessel (regardless of the seller's disclosure) will get questioned, checked and tested. Please hide nothing, it will be cheaper for you in the long-run!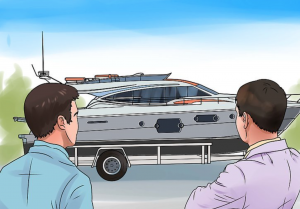 5. Remember that buyer's are not silly, they are educated and pay good money for a pre-purchase inspection/survey. So inspector's are getting paid to find problems and/or issues. Nothing goes unreported or slips-by, so your honest disclosure saves us all in the long run!
What you see as important may not be the same as a prospective buyer, allow the broker to make suggestions regarding preparing your boat for sale.
6. Collate all your paperwork. At the time of formalising your listing with us:
Your Proof of Ownership (your original receipt of purchase)
Registration for both Vessel and/or Trailer
Service, Repair and Maintenance Receipts, these form the 'service history'.
Owners' Manuals, Booklets and Paper
Current insurance policy or current Certificate of Currency
Set of Engine and Cabin Keys
7.  Setting a realistic market price. This is obviously a very sensitive issue and we all want the best possible price for our pride and joy. Market research on the internet can be a guide but it is just a guide. Prices of similar vessels can vary quite considerably especially where private adverts are concerned. Talking with a broker such as Total Boat Sales, will give you a fairer idea of your boat's market value.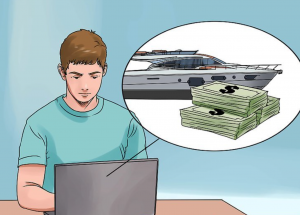 The Internet does not give actual "sold" prices where as a broker is advising you from a "sold" price stand point. Total Boat Sales's knowledge and experience will give you a "realistic" valuation.
Overpricing a boat for sale can have a real detrimental effect on the marketing of a boat. It can seriously reduce interest and it can deter buyers from viewing.
Buyers may like the look of a boat but will not offer on it as they may feel the offer would be insulting to the owner. That is why pricing as accurately as possible to the market that we are working in at any given time is so important.
We hope that these pointers are helpful in reminding you the part you need to play to help sell your boat. If you haven't listed with us yet, then click here to get your free boat appraisal and valuation.